On the job, we talk to our clients about the magic of zoning. Zoning a room means designating a specific activity to an area within your space. For example, in your kitchen you can create stations for storing groups of items like baking and cooking. Setting up these stations allows you to go from one task to another without having to run all over the place. You can even create more categories within these stations to make any task a breeze. Today we are going to talk about creating an efficient beverage station in your kitchen for your drinks and all of their accessories.
Whether you are a coffee drinker, tea lover or both, you probably have many items in your kitchen that you need to make your perfect cup. Everything from mugs to creamers, filters and so on need to be accessible. Based on your kitchen design, you will want to pick an upper cabinet close to your dishwasher, refrigerator or stove to store these items. If the layout of your kitchen allows you to have a cabinet close to all three, perfect! If not, think about your habits and pick the best cabinet accordingly. For example, if you use an electric kettle instead of stove top then you don't need your tea station close to the stove at all. If you can't decide, go with the dishwasher. It will make it easier to put all the mugs and glasses back into the cabinet. For tips on how to organize all different types of glassware, click on the box below.
Inside your cabinet, store mugs, travel mugs, teapots and your French press as well as drink accoutrement and sweeteners, such as honey and sugar. Baskets and containers are good for storing all kinds of things in one place inside your cabinet. By grouping all these items together and placing them in a basket, you can just grab the container and put it all back when you're done. Create separate containers for your tea, coffee and hot chocolate. In the past, we have used mesh drawer organizer to keep teabags and sweetener packets stored which makes using them a breeze. If you have a good collection of teas, consider storing caffeinated teas in one container and decaffeinated teas in another.
If your cabinet has a lot of space between the shelves, use containers that can be stacked or divide your shelves with the use of a shelf riser. We have found these Binz containers to be very handy for storing all types of things in your kitchen including loose tea, tea boxes and coffee accessories.
If you find that you are short on cabinet space, you can store cups and mugs using an undershelf cup holder. Another space saving option is to use an undershelf basket to store non-breakable items like filters, boxes of tea, marshmallows or a container of sugar packets. With a little extra counter space, you can use a mug stand for super easy access and a small container or basket to store a small number of products on your counter with any extras going in the pantry. Choose the right hook and you can even hang mugs underneath of your cabinets!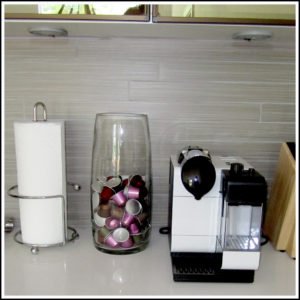 The counter space below your beverage cabinet is the best place to keep your coffee maker, electric kettle or any other appliances you need to make your favorite daily beverage. Having a coffee machine in your kitchen is a staple for a lot of people, they cannot start their day without having a cup of freshly brewed coffee, there are so many coffee machines that are out there for people to shop around for, I have had many recommendations for my kitchen, such as a Sage Coffee Machine, my friends love theirs and they try to get everyone they know to get one! The choice is yours, but if you're a coffee-lover, you can't go wrong with a coffee machine, and it won't clutter your kitchen tops. Try to keep a good portion of your counter clear for mixing and pouring your beverages. If you use k-cups, you can use a container, glass vase or one of these products specifically designed for storing the K-Cups. Due to their negative impact on the environment, we are not huge fans of k-cups, however, if you do have a k-cup device there are reusable filters available for some models so you can still have the comfort and convenience of making just one cup. If you choose this option, make sure to have your coffee grounds and loose teas organized and easily accessible.
Having a drawer available under your beverage cabinet is a blessing. Use it, along with drawer organizers, to store accessories such as bags, tea balls, strainers, and teaspoons. Still have more space in the drawer? Use it to store all your wine openers, bottle stoppers, wine charms and stir sticks.
The lower cabinet under your drinking station is a great place to store heavy items like cans of pop, boxed milk, extra juice and bottles of liquor. If you find that you have extra space in this under cabinet, consider storing other heavy and bulky items like pitchers, punch bowls or party beverage dispensers here. To make everything easy to retrieve, keep the most frequently used items within reach and adjust your shelves so it will all fit appropriately.
As we know, beverages come in a wide range of varieties. Some of us favor cold drinks while others like it hot. When thinking about creating a beverage station, consider how to store alcoholic drinks. Below are two links to our other blog posts where we talk about organizing cold beverages and alcoholic drinks specifically.
For Team M2O, it's always tea time! Each member of our team has the same travel mugs but in different colors so we know whose mug is whose. We even make jokes about how the mugs always pop up in our "before" pictures. Organizing and creating awesome drink stations for our clients is one of our specialties and we hold up our travel mugs for a celebratory toast after each successful organizing project is complete. Cheers to you and drink up!