When the alarm goes off in the morning you have very little time to get ready but you have so many tasks to complete before running out of the door, so you start sacrificing the essentials like eating breakfast! What you do in the morning sets the tone for the rest of your day. A day that starts smoothly helps you to deal with whatever is coming your way. Here are few systems that you can set up for your morning routine. By applying them day to day you can get ready more quickly.
Pack Up
Whatever you can prepare, be it a lunch box, work documents or the gym bag, do it ahead of time. You can save so much time in the morning by just grabbing these items on your way out instead of running around the house in the morning. Plus, you won't forget anything that you need to bring with you. If you think you might forget to grab these items in the morning, set up a reminder on your phone, attach a post-it to your door with list of items you need to grab or leave a visual note; for example put the empty lunch box on the counter to remind yourself to take it with you.
Gather Clothes
Get ready the night before as much as possible. It is best to prep the night before for the morning! Pick out the clothes or accessories for the day ahead, some people even set the whole week of clothing for work on weekend. Take a shower at night. If you can, blow dry your hair or shave before you are going to bed. Everybody has different patterns but there are always small or big tasks that you can do beforehand. See what works for your routine and get into habit of doing it.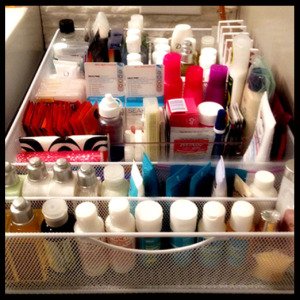 Stay Organized
This tip goes without saying. The more organized you are the more efficient you become in everything you do. Just think of all the time that gets wasted by searching for items you need, going around gathering items from different places or repurchasing what you know you have and can not find. There are many ways to stay organized in your life and you can benefit from them all. From actually organizing your space, creating a grocery list, to do list, or having all your pictures and files in your virtual spaced organized. All are steps toward a more productive life. No matter to what extent or how you do, it every little thing you do to stay more organized can impact your life in astonishing ways. You can find anything you need to know about organizing right here at Mission 2 Organize website, M2O TV and by following us on Facebook or twitter.
Streamline the Process
This one gets much easier once you've organized your space and gotten rid of all the clutter. Now that you have the items you need to use categorized and contained in order, it's time to simplify. You can use products in your beauty routine that act fast or can do two jobs at once. For example use a sunscreen that also acts as a foundation or lotion that has aftershave in it. Try to achieve the most results in half time by streamlining and pairing tasks together.
Manage Time
Time management skills are useful in all aspects of your life and can relieve excessive stress and anxiety. Not having a good knowledge of time management is the root of procrastination and feeling overwhelmed. You do not need to have a management degree to be able to pull this off. Start small and you will learn more as you go. Think of all the things you need to do in the morning in order to leave the house on time. Break down this list into smaller tasks and figure out how many minutes you need to accomplish each task and in what order. In the morning use a timer to time yourself for each task and therefore get out of door in time. Check out these resources on productivity and time management and master the trade.
Once you have established new habits, getting ready in the morning is gonna be a breeze! Your mornings will be drama free enabling you to get ready and out the door quickly. Starting the day on a really good note will set you up to carry on with grace and balance.