While there are plenty of things you need to consider when moving – liking booking a moving company or planning your meals – you'll also want to think about the must-have items you'll need when you're ready to take your space from drab to fab!!
At Mission 2 Organize, we believe the best time to decorate your new home is after the boxes have been unpacked! By taking this approach you can move and keep your sanity, ensure that your essentials are properly put away and finish any home improvement projects first. Then it's time for the fun to begin!
But wait, you'll want these 5 must-have tools on hand when decorating your home so you get more done with less hassle!
5 Must-Have Tools for Decorating
There are lots of options on Amazon for you to choose from, but these 5 must-have tools are the ones we highly recommend to our clients and use in our own homes when adding decorations:
Command Strips and Hooks. Leery of using a hammer and nail? Then any of the 3M Command products – strips, clips or hooks – are the perfect solution for you! Available in a wide range of sizes and colors, these adhesives are easy to use and won't damage your walls. They're also water-resistant, strong, and peel right off when you get the urge to try something new.
Museum putty. Looking for a way to secure your decorative items from a beloved pet or little one? Museum putty is all you need to keep them safe (both the pets/kids and decor)! This putty is easy to use, removable and reusable and works great on a variety of surfaces (wood, glass, marble, etc). And the best part? It's strong enough that even an earthquake or other natural disaster can't move it!
Ladder. For those hard-to-reach places, a ladder is a definite must-have!
Level. No more crooked picture frames or paintings! Using a level, either laser or classic style can ensure you only have to hammer and hang once!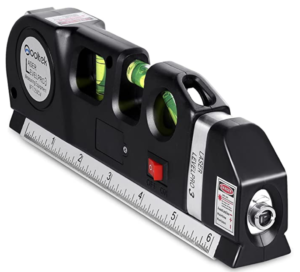 Drill/hammer/anchors/nails/screws/picture hangers. If you are handy with tools and want peace of mind about the decor you're hanging or placing around your home, then you'll want to keep your toolbox filled with a drill, hammer, anchors, nails, screws, and picture hangers.
Bonus tool: Music/Food/Friend(s). Although not a must-have to decorate, we suggest adding some fun to your work with music, food, and a friend or two. It can make the task a little more enjoyable and you'll have someone around to hold the ladder for you!! We're firm believers that 2 are better than 1!
Moving into a new home and making it yours with beautiful decor and special touches doesn't have to be difficult! When you have these 5 must-have tools on hand you can get the job done quickly and easily so you can enjoy your space sooner!
Which of these tools do you consider essential when decorating your home? Are there any you think we should add to the list?
**Image credits: Amazon