Sometimes you find the perfect venue within your budget and that is great. But don't dismiss a good venue that meets your budget because it's not perfect. There are many ways to transform a simple venue into a marvelous, magical setting.
Our advice is that before adding anything to the place, go around and edit first. For example, before covering up an ugly bench see if you can take it out. After you have done your edit, use these tips below to cover up imperfections, fill up a room or just glam up your party. Keep in mind, less is more!
– Fabric
A little fabric can go a long way. To add razzle-dazzle to any room and make it cozy, you can drape the ceiling. Use colors to your advantage to brighten up or dim down a room. Colors can change the vibe of your event and allows you to personalize using your party theme. You can also use fabrics to hang in doorways, separate areas, cover tables and add a little something to any chair.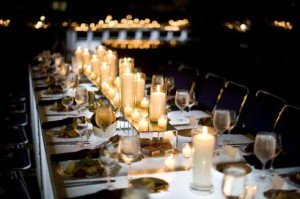 – Candles
When you think you have enough candles, add more. You can hide lots of the unfavorable elements in a venue by using less harsh, more diffused light. Candles also seem to add a magical warmth, glow and spark to any environment. Here at M2O, we are huge candle lovers. If your event is more than a few hours, it can be challenging to keep all the candles lit throughout the event. It is extra challenging if your venue is outdoor. If you don't have enough staff to assign one to "candle duty," you can also use battery operated candles. It goes without saying, but be very cautious where you place candles. Be mindful of having them in a safe glass candle holder and keep them away from fabrics, flowers or any flammable objects. Here is a video on how to decorate candles.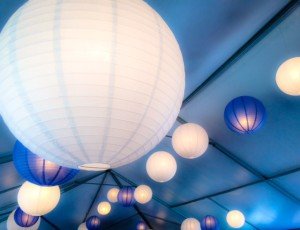 – Lighting
A dim light for dance floor, decorative lights, floor lighting and some indirect light for the food section at the venue are all little details that can make a huge difference. Most venues have dimmer capability with their lighting system. If you are adding your own light or decorating with lighting, it is a good idea to think of hooking them up to dimmers. Adjust lights as the event goes on. LED rope light, fiber optic lights or string lights are really good options to keep the lighting soft at your venue. Light, like fabrics, come in many colors. Use the colors to your advantage, but don't over do it.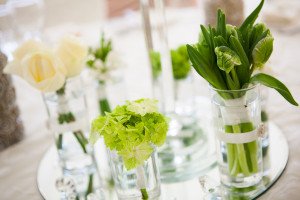 – Flowers
Use fresh flowers, plants or leaves to decorate tables, walkways, the stage, dinner tables and just about anything. The variety of shapes and colors is something to take advantage of when using flowers to decorate your event. A florist knows best when it comes to flower arrangements but with a little time and a small budget, you can create some beautiful pieces yourself. Think outside of the box when it come picking vases. You can create some fun vases out of almost anything that can hold water. Use different sized vases to create varying levels for more interesting displays. Flowers in the bathroom are as important as in any other area and add a nice touch to a small space. Check out this video on how to arrange flowers for your next event.
– Party Decorations
You can always use party decorations, like balloons, to decorate or fill up a room. Most decorations comes in different sizes and colors. From cute little name placards to bigger decorations, you can find many items that add little detail or personality to your venue. The options are endless. Anything from masks to birdcages, teardrop glasses and so much more can be used to decorate your event to your taste. Remember to keep it simple and make sure everything you choose is related to each other. Too much is distracting. Here is a video on DIY party decorations.
Now that you picked your decorations, make sure you don't forget to use them in every room. Attention to detail is what makes your event that much more glamorous. Enjoy your party.
More resources for party planning.