Life changes, people change and our lifestyles adapt, so why shouldn't our organizing products do the same? Who said they can't?! Here at M2O we love to re-use and re-purpose as many products as we can. If our clients have something in their house that can be used as a container, we do our best to reuse it for a new purpose. We have turned so many shoe boxes, vases and so on into organizing supplies that we have lost count. Here are a few examples of the many products that we gave a second life by turning them into useful organizers.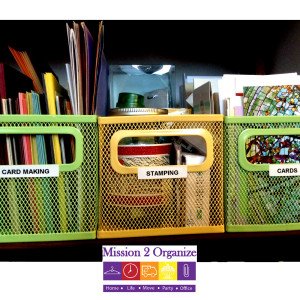 Our client "L" got these CD organizers with the intention to organize her CDs. However, once she turned all of her CDs in to digital files and got rid of them, she had no idea what to do with all of the CD organizers. It just so happened that all of her craft supplies needed a new home and a better way to be organized. It was a match made in heaven! We ended up using all 10 of these colorful fun organizers in a new craft station that she now loves.
Magazine holders, for the most part, are an overlooked container. Their unusual yet useful tall and skinny structure makes them a great candidate for organizing things other than magazines. Our client "M" had so many office supplies but not enough horizontal space to store them. These magazine holders where the perfect solution for the job! We were able to use the vertical space to our advantage, maximize her space and make everything easy to access.
Sometimes the solution is unconventional but worth searching for. Most of the time if a product is designed to sort and store one item, it can also sort and store other items as well. You just have to match the right object to its home. Here, we gave a new purpose to an unwanted wine rack by turning it into a gift wrap holder. This newspaper holder ended up being the perfect place to stash tissue papers. Now our client has a sturdy gift wrapping section and she didn't have to buy a thing to make it happen!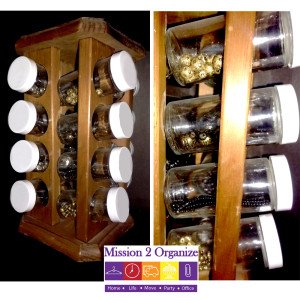 Jars can be the solution to many organizing projects. The craze of mason jar DIY projects proves that you can do almost anything with glass jars. Schae's new place came with the built in spice racks so she now uses her old standing spice rack to keep her jewelry making beads organized. She loves how the spinning feature of the rack allows her to easily accesses the beads while she is making awesome jewelry.
You need to utilize your vertical space as much as possible when you are multi-purposing a room. The same principal applies to the vertical space for organizing. Over-the-door shoe organizers can be used for separating and containing many other objects besides shoes. For example, in this picture it holds makeup or office supplies neat and tidy. Get creative. The possibilities are endless!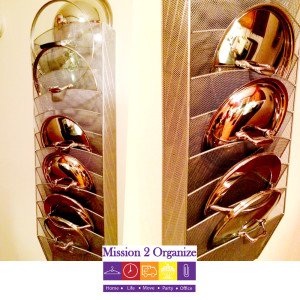 File holders can hold more than just papers. I had this file organizer in my office for many years and it was not practical at all. Small papers would get lost in it and were hard to retrieve. I couldn't keep it neat and organized at all no matter how hard I tried. On the other hand, my small kitchen cabinets meant that the lids for my pots and pans were becoming a big issue. One day it clicked and I got the crazy idea to move the file organizer to kitchen and turn it to a vertical lid holder on an empty wall in my kitchen! I am so happy with the result. I only wish I would have done it earlier.
From a shoe cubby to a grab and go station. Our client "M" had this big closet in her mudroom and she wanted to use it for keeping anything from sunscreen to all the little things that she needed to grab as she walked out of the house. It was originally a coat closet so there were not many shelves inside the closet to do the job. With use of a few containers and baskets, we were able to turn a shoe rack that her family had outgrown into an organizing station for needed supplies right in her mudroom closet.
Drawer organizers make us feel like a kid in a candy store. I have yet to find one drawer organizer that we were not able to use in any of our organizing projects. For our client "D", having a tea station was a must. Drawer organizers to the rescue! The ability to stack them on top of each other allowed us to store more items and use the vertical space in the cabinet which keeps them easy to access and organized.
After getting married, our client "S" bought a new house with her husband. We had already ordered tie organizers in the closets we designed for them so we had these extra tie racks from her husband's bachelor pad. Instead, we used them to conveniently display her necklaces. This was a sentimental and cute way to integrate the couple's belongings.
Containers are the most versatile of organizing products out there. You can almost use them for almost anything. Our client "D" had a bunch of these airtight kitchen containers sitting empty in her kitchen for many years. It just so happened that she also had a ton of extra bathroom products. The  kitchen containers end up working perfectly for storing some of her products such as her bath salts, keeping them fresh and within reach. The ability to stack these containers was a bonus, giving her more surface space to work with.
Problem solving is our favorite game! Surely you all have your own creative ways of multi-purposing things around your home, share with us in the comment section your AHA moment. We love to see what are other uses we can get out of every day organizing supplies.