The holidays are synonymous with family gatherings, friendly get-togethers and parties with colleagues. It's these moments with others that remind us what the holidays are about and what truly matters most in life.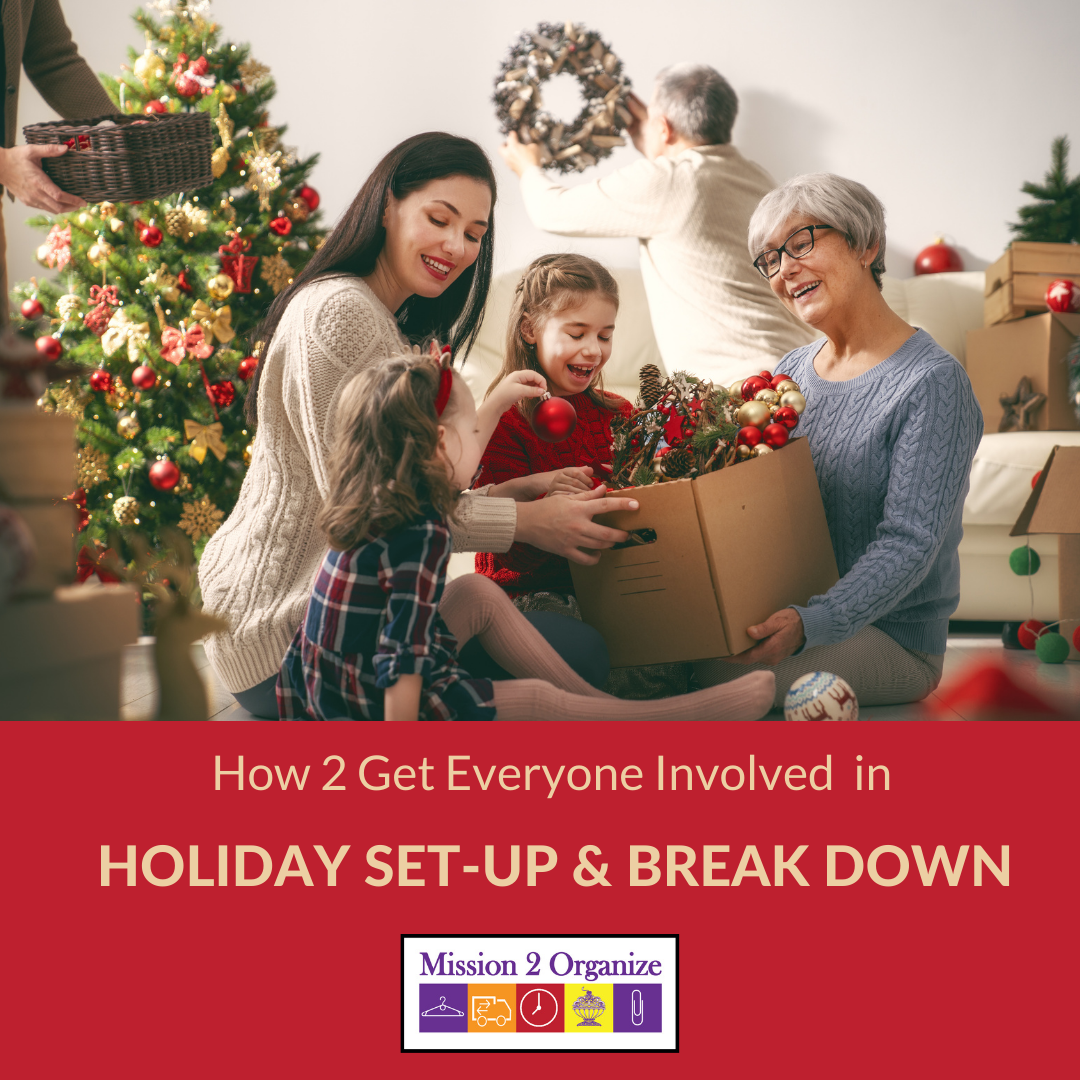 But in order to huddle around the tree with our favorite people, there's usually a long list of to-do's that need to be checked off first: decorating, baking, cooking, shopping, wrapping and cleaning. And then we have to turn around and put everything back together!
More often than not, all that behind-the-scenes work is a solo job. So how can we get our family and friends to join in the festive preparations so everyone can enjoy the holiday fun? Here are four ways to make the set-up and break-down a process that inspires everyone to get involved:
1. Make it fun. Why do people prefer Buddy the Elf over The Grinch? Because Buddy knows how to make the holidays fun! When it comes to recruiting others to help you complete the holiday tasks you need to be like Buddy and make it fun!
This may include playing some spirited music while you decorate your gingerbread house, watching a favorite holiday movie as you wrap the presents or serving some eggnog (or any other tasty drink of choice) and tasty snacks, like Hanukkah Honey Balls. Why not make the tedious job of getting the tree back in its original box a little more delightful?
Regardless of what you're trying to accomplish before the new year rolls around, find creative ways to take your holiday joy to the next level.
2. Offer a reward. Just as Santa thanks his elves for all their hard work on December 26th, reward your hardworking elves for their time and efforts too! Hanging or taking down lights, addressing holiday cards and storing away the ornaments can take a lot of time and energy. When your crew has checked off all the holiday chores, find a way to reward them!
A movie marathon with hot chocolate, some sweet snacks (like Holiday Wreath Cookies) and a few blankets is always a hit. You might also consider taking your gang on a late-night drive around the neighborhood to enjoy all the light displays or a game of dreidel. No matter what you choose, an out-of-the-ordinary special treat is a great way to show your appreciation for all their help!
3. Keep it organized. If you've ever watched a holiday TV show then you know that Santa and his elves have everything in order. No one is running around wondering what needs to be done or who's responsible (okay, maybe Buddy is!) before the clock strikes midnight on December 24th. They all have a clear idea of who is in charge of which tasks and, by having this knowledge, they get the job done efficiently!
So how can you make your holidays more organized? Based on the age and ability of each person in your house, assign tasks. Create a checklist and post it in a central location so that everyone can see what has been completed and what still needs to be done before a single present is unwrapped. There's nothing more motivating than a visual reminder of the approaching holiday!
Being organized during the holidays doesn't mean you have to sap the joy out of the season. Au contraire, mon frère! By adding a little bit of order to the days and weeks before and after the holidays, you are ensuring that everyone has a holiday that's merry and bright!
4. Make it a tradition. Holiday traditions are the things people remember most when they reflect upon their childhood years and it's usually with great fondness. Rather than make your holiday to-do list a necessary chore chart, why not find a way to make the tasks that need to be done a family event you repeat year after year?
Consider decorating the tree on a specific day each year (like the day after Thanksgiving), designating the time to light the menorah every evening or baking your holiday gingerbread house on Christmas Eve. Over time, these traditions will be the ones your family treasures most!
Whether you're decking your halls or putting it all away to focus on the new year, don't do it alone! The holidays are meant to be spent together – whether you're singing carols or making all the preparations – these are just a few ways you can get everyone on board this season. And if you find you need more help than your family and friends can provide, Mission 2 Organize is always around to lend a hand…or two ;-)!

Download your FREE Holiday Decorating Checklist and have a happy and organized holiday season!