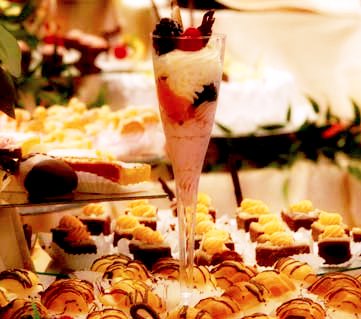 Throwing a holiday party? Entertaining can be a challenge for people who want to do it all themselves. However if the budget allows, why not leave the food preparation in the hands of a professional? Hire a caterer to ease the pressure of menu planning, food preparation and service. There are a number of corporate catering nyc options that you could take advantage of, depending on the size of your party. That way, you can enjoy your party and leave the cooking and serving to someone else! Here are a few important tips in planning your party for the holidays:
Are you planning your party around a special theme? Is it a "grazing" buffet or something more formal like passed hors d'oeuvres and a seated meal? Today's entertaining trend is to have a good selection of items that are substantial enough as a meal, and some dessert. Don't worry about serving an entrée, they are a thing of the past, and your guests will enjoy the variety of a "grazing" buffet!
Think about your favorite food(s) will they fit within your theme? Ask the caterer what their specialties are, and for their recommendations. Food trends are nice, but are your guests more comfort food eaters or more adventurous?
Finger foods are nice for convenience sake, some heartier buffet items generally require a fork and plate. Choose freely and a have a variety of foods from cold to hot, vegetarian to carnivore selections and have at least 5 to7 items or more on the buffet for your guests to choose from. Many guests enjoy sampling nibbles rather than having a whole plate of one item.
Eco friendly approach: Are you using china plates and silverware, or disposables? Try to find eco friendly disposable goods online or at your local party store. They're out there, but require a little research. I like using real plates and silverware on the buffet, generally this works best for smaller events. Larger events will require more than what the typical household has in stock, unless your friends want to loan you some of theirs!
Dessert! Mini everything is the rage, and guests loving sampling all sorts of treats. Bite size nibbles are perfect and miniature pastries and treats satisfy the sweet tooth without having to eat a whole slice of one item! If you are having bar type items, cut them in various shapes to provide visual interest, and intersperse them with gourmet chocolates and chocolate dipped fruit. They're great crowd pleasers!
Remember to offer a variety of beverages. Some guests may want soft drinks or just water, alcohol isn't necessary, but is a nice touch. Punch is tasty and folks will love to try your special concoction. Make it a tradition to serve your special recipe! If you choose to serve alcohol, choose wines that you personally like from red to white and everything in between. A selection of local microbrews would be a nice offering for those into beer. Champagne is a nice touch if the budget allows, go for it! Check out

this video

for tips on organizing your beverage station.
Decorate your tables with items you have in house: Draw from your stash of holiday décor. For example: a vintage sled can be dusted off and become a table focal point serving as a centerpiece with winter evergreens, pine cones, fresh flowers etc. Guests will love seeing family heirlooms and you can tell all the stories of Christmas's past. If you have photos from your family, enlarge and print them up on your computer to make signs for the buffet table or door decorations. Your friends will love seeing them!
A good caterer is highly creative and can provide many suggestions and incorporate your desires into your party! Visual presentation is equally important to taste! People eat with their eyes first, and teeth second, so make that first impression memorable and have a good time!
James Melnychuk is Chef Owner of Rave Review Catering and has been catering since 1994.
His website is: www.ravereviewcatering.com