Holidays are all about loving and coming together to celebrate an occasion. Include our planet earth in the circle of love and celebrate all it's gifts by shopping green this season. There are many ways you can be a green shopper. Here are a few tips to get you started on your earth friendly shopping spree.
Shop recycled items and items that are recyclable
The choices of cool recycled items are endless. Objects that are restored, re-purposed or made from recycled items can be bought from a crafter on etsy, from a local store or even from some high end stores. You won't believe the fun stuff that is out there! We just fell in love with the PEACEBOMB project. The first collection is jewelry made by Laotian artisans from Vietnam War era bombs. What an awesome idea! Take a look at this Forbes article for more environmentally friendly shops.
Buy services or memberships instead of things
Think of giving massages, candle making classes, city tours, cooking classes, cleaning services, hair cuts, and organizing services as a gift. Everybody has a favorite service or a hobby that they want to learn more about. What a great surprise to receive this as a gift! You can even risk signing them up for something you know they like but have never tried. Think sky diving or a fitness membership. They will forever remember these unique gifts.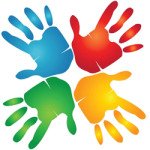 Buy and support a cause
There are many ways to provide support in this world. Being earth-friendly is not only about recycling, but empowering it's people by providing food, shelter, clean water, vaccinations, education and so on. They say by educating a girl you are educating a village. You can buy your gifts directly from charities, fair trade shops or shop items that will give back to charities. This blog post has a list of more than 13 items and sites you can shop at which will support a number of worthy causes.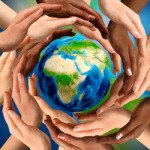 Educate yourself and voice your opinion
As a buyer, you have lots of power in your hand. Buying fair trade is awesome, but it is also a great practice to know more about the companies you buy from. If you stop buying from companies that are not environmentally friendly or treat their employees fairly, you are voicing your opinion in a powerful way. At the very least, you are making sure that your money is not going to support a philosophy you disagree with. If we all practice this principle, companies will see a difference in their bottom line and change their ways. Together we can make a statement and do good for this planet.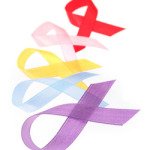 Give the good feeling
We all have people in our lives that already have most of the things they need. You know; that person on the list that you can not think of anything to give them. Donate money to any cause that is dear to their heart in their name and give that as a gift. You can also plant a tree for them. After all, this season is about spreading joy and holiday cheer.
Make a gift
It doesn't matter if you are crafter or not, you can try easy DIY gift baskets. These are not only useful, but heart warming. For example, get a cute mug, fill it with ready-to-make hot chocolate and marshmallows and decorate it with a cute ribbon on the handle! It's an awesome gift, plus every part of the gift is useful. You can also buy edible items from your local market and put them together in a customized gift basket. After all the goodies are gone, the basket can be useful for years to come.
Buy local
Try to buy as many local gifts as possible. Not only you will support your community, you also save the planet by using less gas for transportation and less shipping materials, plus you save money on shipping expenses! Also when we buy local or from small businesses, we know more about how the item was made and what the company stands for.
Shop second hand stores
There are many treasures hidden and waiting to be found at second hand stores. Some things are even more fun the second time around! You can get super creative when you shop second hand store too. Maybe that crystal ashtray in the corner will find a new life as an awesome candle holder.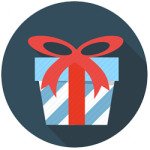 Green gift wrapping
Use recycled papers, fabrics and ribbons to wrap your gifts. You can find lots of inspiration for wrapping your gifts in a green way that is cute to bout. When you receive a gift in a gift bag (or any material that can be saved), reuse it. We always have this joke at M2O that when we give a gift to each other it is in the same gift bag that we have been passing back and forth over the years. Trust me, it feels awesome to keep that bag out of the landfill. After all, everybody wants the gift inside not the bag anyway. One last note; there is no need to wrap a gift inside a gift. If your gift was purchased in a cute box, all it needs is a cute embellishment with a card or ribbon.
May you have a happy holiday and may the earth love all of your green gift giving!