Here at Mission 2 Organize we love to plan, attend and host parties. Parties are fun and bring joy all around. They exist to celebrate, to connect or to simply enjoy life and loved ones. We have many tips on planning and organizing parties right here on our blog. If you're planning a party on a bit of a larger scale, you may want to consider getting in some entertainment as part of your agenda. Take a look at the acts available through Headliner. There are a wide variety of acts for events including: weddings, company parties, birthdays, and so on. Here are 3 party ideas that can work with just about any occasion or theme!
---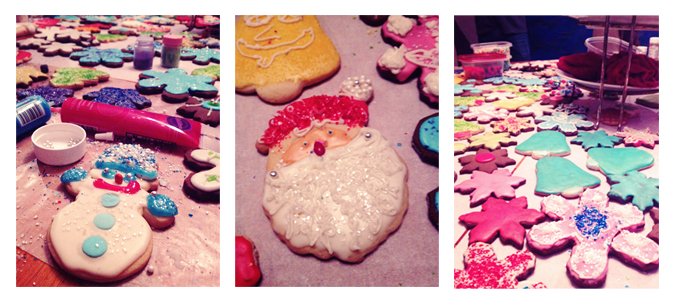 ---
Cookie Decorating Party
Cookies + Wine = Happiness
---
We have been invited to many fun cookie parties. The concept is simple but yet so delicious. As the host, you provide the cookies and a variety of decorations such as sprinkles and frosting. Your guests bring the drinks and creativity. This theme makes for great entertainment during the holidays but you can personalize it to any event you want. For sugary finger licking kind of fun, whip up a kid-friendly beverage and change the shape of the cookies to match your child's favorite animal or character. Here are some pictures from the Valentine and Christmas cookie decorating parties that we have attended. Both holidays fall during the cold winter months in Chicago and cookies are an essential part of maintaining happiness around here. The best part is that each guest leaves with plate full of cookies to share and enjoy with friends and family. Cookie decorating parties are a must do for kids and adults alike.
---
---
Game Night Party
Creative Mind + Opportunity = Laughter
---
This party idea can range anywhere from naughty to nice! We all know when a group of adults get together, the games they play are different than when you have the kids around. (Wink, wink) But that is the best part about game night parties. They can be anything from an outdoor potato sack race to playing Taboo while sipping wine. All you need is a few big tables and chairs plus a variety of board games or activities. Call up a fun group of friends and put out a few party snacks and beverages. We bet you the night will involve many belly aching laughs which is bound to happen at any game night party!
---
---
Pajama Party
Comfort + Party = Fun
---
Well this one is on the top of our party wish list. Any event that allows us to dress up is our favorite. But what we particularly love about a pajama party is that it is dress up by dressing down! Comfortable and fun, it can also be charming and a little unusual. Unless we are a very close group of friends, we haven't seen each other in our pajamas. Your guests personalities will shine through based on the style of pajama they choose. Since this is sure to bring the kid out in all of us, cookies and chocolates are the perfect choice for this party. Above is a picture of a candy bar party setup. Click here to know more. If you are planning a movie night, make it a pajama party. Grab the popcorn and make it a night to remember!