We tend to spent a lot of time in our offices. In fact, a lot of us probably spend most of our time in our office, whether we like it or not. Even if we've got great office furniture from somewhere like Office Monster, there are still other ways in which we make our office space more personalised and suited for your desires. No matter if your office is a traditional space or just your phone and sofa at your home, office supplies like your 3 Ring Binders are really useful for keeping your paper files organised. Technology in all forms is so useful. So use some of these efficiency gadgets that we found that can make your office space tailored to your specific needs.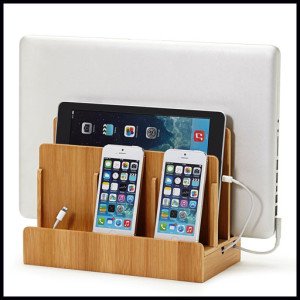 Charging Station
Just look around and you will see how many devices you are charging at any given moment. From laptops to phones or tablets and now watches, we are always tangled in a mess of wires. Invest in a charging station. You can find many options on Amazon. Pick the one that fits the size of your electronic items and the amount of objects that need charging. The station hides the cords and keeps your devices safe. Plus having a fixed spot to charge means you will always know exactly where you left your devices so you won't have to panic searching your desk once you hear that your phone is ringing. If you are more of a DIY person, here are some samples of how others made their own charging stations.
Cable Holder
If you don't have too many devices, you're short on space for a charging station or have too many wires around, invest in a set of cable holders. They will keep your wires neat and off the floor which by itself is worth the investment. Taming the wires in your space is so essential to having a clutter-free and productive space that we wrote a whole blog post about it. Check it out here.
Desktop Organizer
There are many ways to keep your office space organized. It's no wonder that the biggest part of this organizing quest is about organizing your office supplies. In a blog post that we wrote a few months back, we talked about items you can recycle for the purpose of organizing your office supplies. Once you find ways to contain your supplies, it is not a bad idea to use some desktop organizers like the ones in the picture shown. It will double your desk space and make room for the everyday supplies that live on your desk. Some models even hold your coffee and your phone plus they have usb hubs which is another way to open up some space and contain clutter. Make sure you get one that works with your keyboard and monitor size.
Wall Mounted File & Magazine Holder
If you don't have enough surface space for magazines, files or inboxes, use your wall and vertical spaces instead. There are variety of choices for any taste and even as many DIY tutorials on how to make these magazine racks and file holders. Make sure to label each pocket and go through and clean them out frequently to make them look neat. A neat office projects the idea that you are in control and on top of it. Who wouldn't like that?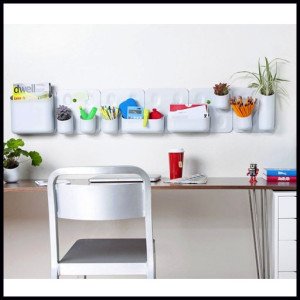 Wall Mounted Desktop Organizer
The same principle as above applies to office supplies. Especially if you are a designer, artist or in any line of work that requires you have many tools handy. Try one of these magnetic wall organizer or make your own. By getting stuff off the floor and keeping your work space clear, you keep everything handy and in reaching distance for maximum efficiency. Make sure you return all items to their homes after using them to keep the system in place while looking stylish.
Hooks
Never underestimate the power of a hook. There are many different types of hooks with many shapes and ways to use them. They can hold your keys, purses, coats and so on. The nature of a hook is to collect items in one place which means you always know where to put things and where to find them. Get in the habit of using the hooks in your office and in no time you will save time by not having to constantly look for your things. I did this few years back with my keys. A key holder by the door was the best thing happened to me. I haven't been in a panic searching for my keys in the past 10 years! I always know where they are.
Scanner
Invest in a good small desk scanner that can use to scan your documents, receipts and business cards. Turn your paper clutter into organized and accessible data that you can access from anywhere by going digital. Taking away all the paperwork from your desktop and having it organized in your digital devices not only makes your office tidy but it makes finding your data at any moment an easy task.
USB Light
Lighting is very important in any space. Light is not only a mood setter but also necessary for the health of your eyes. If you work in a space with few or insufficient sources of light, try a usb light. This will provide you with a light for reading and better light to see your keyboard. It gets power from your computer and it's so small that it shines the light where it is most needed.
Brain Food
Every now and then you need to rest your brain from all the tasks at hand. Based on how your brain takes breaks, add elements that work for you. Some love to have a zen garden box in the office but we just love this magnetic putty. It is small and fun. Check out the video here.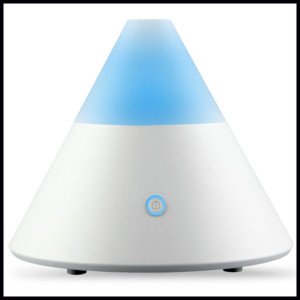 Diffuser
Make your office smell good with any of these small diffusers. Get the essential oil that you love the most. Lavender oil will help you relax while rosemary oil has the effect of happiness. You can always have few different oils on hand and switch the smell based on your mood. Also whomever walks into your office will notice how awesome your office smells.
Something else that makes your office awesome is paying less for energy bills. My friend recently rented and office and wasn't sure if he got the best deal he could get on his business energy. He decided to do some research on websites such as Usave. He saved a bunch of money through checking a range of quotes through their website. It must be worth checking out!
Let us know which of these gadgets you have used before and what you thought of them. We hope these ideas inspire you and make your workday just a little more awesome.