We always say organizing should not cost you a fortune. The goal of organizing is to make your life easier and help you to save time and money. This can be easily achieved with some determination and creativity using all you have available around you. We always try to re-use things our clients have at home before heading out to buy new products. Here, we have gathered some of the best ideas for using everyday reused and recycled items to organize your office supplies. it is important that your workplace has things like cables organised in an efficient manner. It is always good for a company that involves a huge number of computers and cables to look into braided cable sleeving to help with organization. Organization really is key when you're sorting your office out. My friend recently got her office commercially cleaned by a company like green facilities and it looks amazing now! She told me how much more productive it's made her feel whilst at work.
Jars
Jars are awesome products to be re-purposed. They come in all shapes and sizes, some even have lids. They can be cleaned out very easily. If the jar you want to use has a label that you want to remove, soak the jar in hot water and then scrub it or use Goo Gone. We are pretty sure that you can find glass jars in almost every room of our house. These can all be re-purposed into a container for organizing purposes!
Candle Jars
These tiny candle jars are my little helpers in the office to keep the tiny supplies organized in the drawer. Candle jars are perfect for many different DIY projects.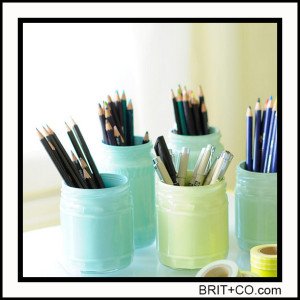 Mason Jars
Good ol' mason jars are also perfect for organizing. There are many projects that you can do using recycled mason jars. Of course, your office is no exception. Paint them and store pens and pencils in them.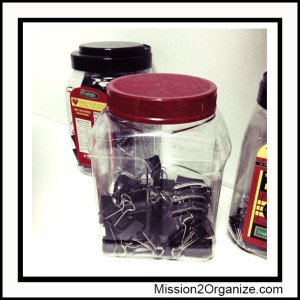 Plastic Jars
Every office has coffee or cookie jars that are over-sized and perfect for storing away many type of office supplies. These are exactly what you need in the office closet for bulk or back stock supplies. Label them for easy restocking.
Cardboard Boxes
The nature of boxes makes them the perfect mate for many organizing projects. They contain a wide variety of sized objects and (for the most part) they are sturdy. You could even check out Crate Hire Companies UK if you're looking for something a little more durable. With only a cardboard box, some glue, and fabric or wrapping paper, can do magic. Use these boxes for almost anything. Here are some samples of what other people have done recycling boxes.
Cereal Box
No more magazine stacks. They can all be archived nicely in your office with these surprisingly stylish cereal boxes. Tutorial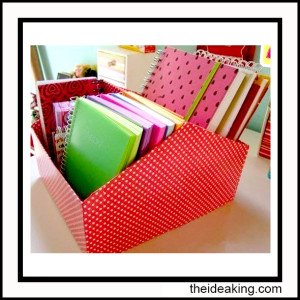 Shoe Box
Make a notebook station out of a shoe box! Pretty. Awesome. Tutorial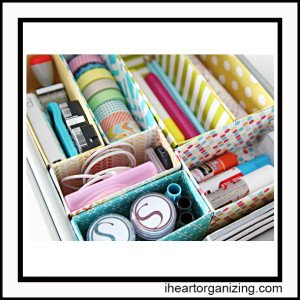 Dry Food Box
Drawer dividers are as necessary to drawers as the traffic line is to a road. They keep all the items in their place so they won't shift and become a jumbled mess of objects. This project shows you how to make your own custom-made drawer organizers. Tutorial
Tin
Mint boxes, soup cans, popcorn tins and cookie tins. Tin, tin and more tins please. These goodies come in every size, small to large. Some even have cute prints on them. People have re-used them for anything from candle holders to artwork. Tins have been in use for many years. They can also come in handy when you organize your office.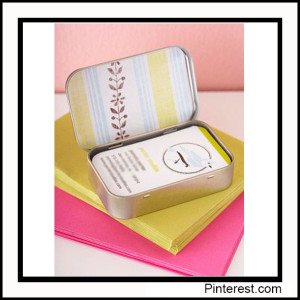 Mint Tin
Make your own personal business card holder using a mint tin. This tiny tin can fit on your desk, in your car or even in your pocket!
Can Tin
Bring a little flare and personality to your office with these cans. You can use old maps, pictures, or twine to wrap the empty cans. If you are going for more industrial look, use cans that have a label and simply peel the label off the shiny surface of the cans. It will give your office a modern yet earth-friendly look. Make sure there are no sharp edges on the cans so you don't accidentally injure yourself.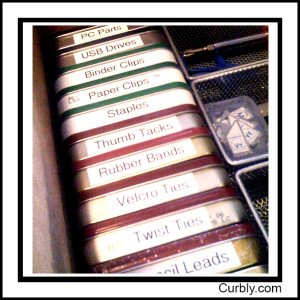 Small Tin
These little mint tins had to make their way to this post. It is a great example of a do-it-yourself organizing project! Easily, all it takes is the use of a label maker.
We hope this post has inspired you to look around and see these everyday items in a new light, re-imagining them for all your organizing needs. Any container, from wooden cigar boxes to egg crates, that is designed to house a product can become home to a different item. Sometimes all you need is a little glitter and imagination. Every time we are able to re-use and re-purpose an item, we feel so good about it. Just think of it as keeping one more thing out of the landfill and putting it back to good use. You can check out our green organizing tips and projects here!