You've found the perfect place, completed all the paperwork and now it's moving day! Although the actual process of moving can be stressful, it doesn't have to be. With a little bit of planning and some strategic packing, moving day can run like a well-oiled machine. How? With some help from your friends at M2O, of course!
6 Tips for Your Family's Success
Since moving is one of our specialties, we know what works best when it comes time for you to go from one space to another. Here are our six best tips to simplify moving day and keep the stress at bay:
Pack a suitcase with the essentials
Which items will you need most when you step into your new house or apartment? Rather than dig through piles of random boxes looking for your must-haves, it's a good idea to pack a suitcase with all of your essentials. Pack up comfortable clothes/pajamas, toiletries, computer/tablets, chargers, medicine and anything else you cannot live without for 48 hours. Combined with your Open First box (which would include all your bedding, towels, toilet paper, etc), your suitcase filled with essentials should allow you to settle into your new place easily that first night…or two.
Order takeout
Since your kitchen and all the necessities you need to cook with will likely be out of commission, consider ordering takeout on the days prior to and after moving day. Consider not only pizza but healthy options that will provide you with the energy you need to get through the move. Remember to ask the restaurant to deliver utensils and paper plates if you don't have any on hand. Ordering food delivery can simplify things and take one more thing off your plate.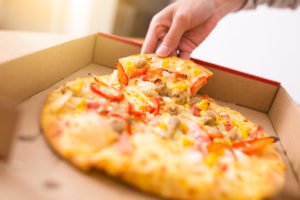 Hire a reputable moving company
Quality movers work quickly and efficiently. Their experienced teams can empty your home fast. Plus they take care to protect your possessions while they are being transported and moved into your new space. Keep in mind, however, that moving companies come in all shapes and sizes: the good, the bad and the ugly. Ask your local friends and family for their personal recommendations. With a respected moving company by your side, you won't have to worry as much or dash around making sure things are moving smoothly.
Have water and snacks on hand

Moving day is hectic and it's important that you, and your movers, stay hydrated and well-nourished. On very hot or humid days, it is especially crucial to keep some cold water handy in a small cooler or beverage dispenser. That, combined with some healthy snacks, will keep everyone involved happy and working at an efficient pace. Encourage the crew to take those much-needed breaks and you'll be rewarded with progress.
Plan for cleaning
Most people want to move into a new place that is freshly cleaned. If that sounds like you, be sure to have a professional cleaning company come in and work their magic before you move anything in. Then once your boxes and furniture have been removed from your old place, you'll need to give it a good cleaning so it's in pristine condition for the next occupants. Trust us, you're going to be tired so make your life easier and just hire a cleaning service. Do it well in advance and you'll even get the exact day and time you request.
Start unpacking immediately with a pro
It can be tempting to put off your unpacking, but don't give into the temptation! Hire a pro team (like Mission 2 Organize) to come in and help you unpack. We bring in a team to get the piles of boxes unloaded, broken down and removed in a day or two. Not only can professional organizers get things in their proper place, but they can set up organizing systems for you as well. Who doesn't want to get organized right from the start in their new space? What a treat!
Moving day doesn't have to be stressful or a dreaded affair! Keep these helpful tips and strategies in mind when it's time to start anew.  When you do, you'll find the experience to be your best one yet!
Disclaimer: Any/all of the links on Mission2Organize.com are affiliate links from which we receive a small commission from sales of certain items. As an Amazon Associate, we earn from qualifying purchases. Thank you!