For any occasion, or no occasion at all, we love hosting, planning and going to parties. After the decision to host a party is made, the first step is to put a guest list together and send the invites out as soon as you can so the guests will save the date. No guests, no party!!!
Here are a few applications and websites that we have used in the past to create and send out our invites. Check them out for your next party and create stunning memorable invitations.
Evite:
As the site itself claims, they have more than 22 million registered users and send out over 25,000 invitations each hour. No wonder they are the first on our list for digital invitations. The website is run on sponsored ads so it is free to design online invitations. On the 15th year anniversary of Evite the company also added a hard copy option. Now you are able to print and mail your invitations for a fee. On the online option, it is easy to customize your invitations, import contacts and send out the invitations via email. You can also opt to allow your guests to invite others, which is a great idea for big events. Evite even offers a free app you can download for designing on the go.
This app based invitation platform is a great option if you'd rather invite guests by text message. I personally do not have some of my closest friends e-mail addresses, but I definitely have their phone numbers and they always respond faster by text message anyway. So for some of my parties I use this app to send out my invitations. You can create your custom invites for free and also get responses from your guests via text or private message. There are many templates that you can use to customize with the option to upload your own images right from your phone. When you are ready, you can send out your invitations or updates to guests anyway you want by text, e-mail, tweet or social media.
Easy share photos options will allow your guests to share all the fun moments captured after the party. There is an auto-photo request feature that makes the task of photo collecting very easy. Your guests don't need to download the app in order to see images, RSVP or view the invitation. Your guests can also added the event to their calendars and get directions to the just by clicking on the invite. No matter how big or small your event, this app will make it easy to manage the invitations and guest list.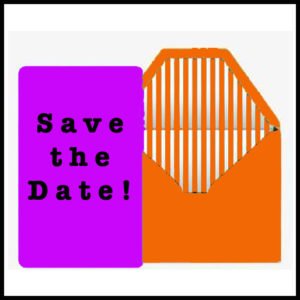 Paperless Post:
This site offers many modern, elegant, fun and creative designs for online and printed invitations. You can use the ready templates on the site and customise everything down to picking out the color of the digital envelopes. Some features are free and some will cost you. For online invitations, this site allows guests to RSVP and even add the event to their calendar. You can also track the RSVPs as well as send the guests updates. If you decide to mail out your invitations, the printed version will be mailed out from the site with the option to add RSVP cards with addressed return envelopes. Paperless Post also has an App that is easy to work with.
This app allows you to edit photos, create beautiful designs and produce professional graphics. Use your own photo or choose from stock of photos available on the site. Choose from hundreds of professionally designed layouts to fit your needs. You can find layouts for cards, invitations, business presentations, Facebook covers and so on. This app also offers a very easy to use desktop version. Cavna is a great way to boost your business if you use social media. With all the design options available, you are going to save time and still create great designs to share with others. Go tp the app store download this app and try it for yourself to see how easy it is to design your next masterpiece.
Use this online invitation platform to send out invitations or just e-cards to brighten a friends day. This site also has the option to send out printed invitations. There are many creatively designed invitations for free as well as additional ones for a fee. The site allows you to change everything to create your own invitations. With so many styles available, you can search for designs for a specific type of event such as bridal shower, baby shower or dinner party. If you are having an event that requires tickets, you will be able to set up a page for ticket transactions. This site also offers a web page for each event, which can come handy for many types of different occasions. For example you can use the web page for your event to put the lists of food for a "potluck party" as well as setting up a PayPal event so others can contribute to the cost of the party if a group of people or sponsors are hosting the event. There is also an option to add a registry for the party. The best part is that everyone can upload photos or videos of the party, so no chasing people down to get photos of the event. Your guests can RSVP as well as get reminders from you about the party. You are also able to setup an automatic thank you card to your guests for after the gathering. You can upload address from many web sources and create guest lists. Through the free option, the designs you can choose from and the number of guests you can send to are limited. However, there are paid options that will give you more freedom in design and number of invites you can send. The site also offers memberships which can be a good option if you send a large number of invitations out yearly.
We only mentioned few of the many online invite options out there. If you can't find what you looking for in these sites, do a search online. You might find one that fits the budget, party and your style best. Now Let's party!