The holiday season brings even the most reclusive of folks out to socialize. There is something about this season that makes people cheerful and we all feel the urge to spread the joy around. To many of us, Christmas means colors, sparkles, shiny lights, hot chocolate, family, friends, familiar stories and a little touch of magic. These are all great ingredients for planning a party!
Everything you need in order to come up with the most creative themes for a fun gathering is embedded into the spirit of this time of the year. Just let your imagination fly high with the reindeer in the sky. Who knows, you might get lucky and have some elves to help you out? After all, miracles happen. If you're currently planning a party and you don't want to buy all the equipment, check out Party Rentals in Los Angeles, CA and rent it instead. This could save you a lot of money!! Here are some party themes that we think are pretty awesome.
Cookie Decorating Party:
With all the amazing cookies, candies, and chocolates around this time of year, there is nothing that says "Christmas" more than sweets. We look forward to the taste of cookies as soon as we hear holiday tunes on the radio. For this type of party, the host provides the cookies and a variety of decorations such as sprinkles and frosting. Your guests bring the Bubbly Party Drink and their creativity. What about a gingerbread house decorating party? Cook up some scrumptious ginger cookies to decorate and eat with guests while you all decorate your gingerbread houses. Check out these cookie party idea photos for some inspiration.
Movie Night Party:
Movies, new and old, have created many shared favorite Christmas classics for the holiday season. Pick a movie and set a time to show it. Get some Home Cinema Installers in Surrey to come out and fit a home cinema for you if you have the space to allow this. It'll make the movies come to life! Then deck the halls to match the theme of the film. There are so many fun things to do for this one like playing movie trivia after the showing. Here are how some others did it who rolled out the red carpet.
Ornament Making/Exchange Parties:
Dressing up your home for Christmas is always fun. We secretly have a special love for ornaments and we know we're not the only ones. These ornament making/exchange parties are so much fun. Not only can you bring cheer to your own tree, but you can help adorn others' trees too. Make some apple spiced rum, prepare some bowls of ribbons, stones and glitter and you're all set. As these glitzy globes hang on trees year after year, they will bring a smile to the faces of friends and family and will be remembered for many Christmases to come. Need some inspiration? Check out the tips from the blogs below and make your party one to remember.
Ugly Christmas Sweater Party:
This one has been very popular for many years. We're not sure if its because we all secretly love ugly Christmas sweaters or because we all are happy to finally wear that sweater our grandma made for us that has been storedin your Christmas storage box for ever. Whatever the reason, this party theme has grown so big that companies now go out of their way to produce ugly holiday wear! Think of all the fun pictures that you can have of your friends and family. Take a look at following link to get an idea about your next ugly Christmas sweater party.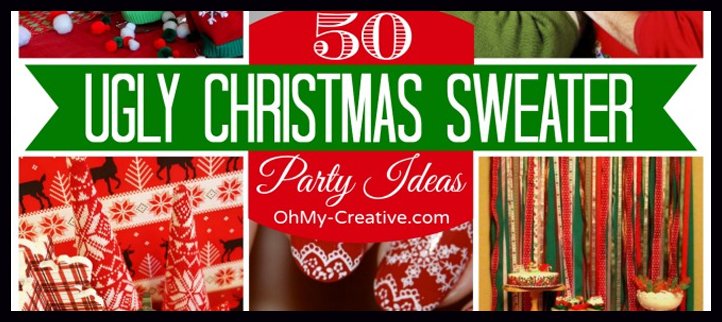 We got really inspired by "Ugly Christmas Sweater Ornaments That You Can Make At Home". Now you can have an ugly Christmas sweater party and an ornament making party at the same time!!!
Pajama Party:
One of the best feelings in the world for many of us is Christmas morning when when we are still in our pajamas, sipping coffee and basking in the joyful decorations of our home. Turn this feeling into either an overnight party or a midday brunch by hosting a pajama party. You can never go wrong with this one that takes us back to our childhood! See how some others rocked the pajama party theme in the posts below.
Character Party:
For those of us still in the spirit of Halloween but wanting to host a Christmas party, this one is a winner. From elves and Santa to the Grinch, Christmas is full of characters. Choose a character from Christmas tradition or a Christmas story and have your very own dress up Christmas party. You can decorate your house, have treats that match your theme and then party the night away. Click on the links below to get inspired.
Food/Drink Theme Parties:
Just as Christmas has many characters, it also has many yummy foods and beverages associated with it. So many of them are worth throwing a party for in their honor. Think of hot chocolate, rum cider, soups or cookies. Pick your favorite and plan a party based on that food. A cookie exchange party or DIY hot chocolate bar are two of my favorites. You can make these parties kid friendly or for adults only. Combined with a few games, these food/drink themed parties can be a lot of fun. Here are some ideas for your next party below.
Comment below and let us know which of these holiday party themes you have tried before and how they turned out. Happy holidays to you all and CHEERS!