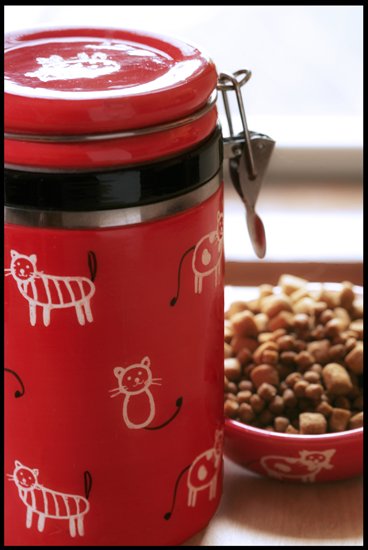 Pets make our house feel like a home as they walk in to our lives and take over our heart. For those of us that have the pleasure of opening our hearts to our amazing pets, we know we have to make room for them in our house as well.
It's best to assign a section of your kitchen pantry, cabinet or shelf to your pet stuff. Use cabinet shelves to maximize your space. Stock the heavy items on bottom shelves and lighter items on the top. You can also store these items under your kitchen sink.
Use a plastic container to store your pet food. You can use any size tall container you have or get the ones that are designed for pet food. Choose the one that works the best for amount of a food you store and for the location where you store them. For example, containers with wheels are a good option if you need to move the container around for access. There are also options you can stack on top of each other so you can store different kinds of food in one place. Have no room for a big container? Get one of these wall-mounted dispensers for easy storing and refilling. Invest in a scoop, which you can store next to or on top of the food supply for easy scooping and mess proof dish refilling.
Store treats in special airtight containers available in stores or online. Get them in different sizes and decorative shapes and go ahead and put them on display in your kitchen. You can also store them in regular containers but they won't stay fresh as long if the container is airtight. The same rule applies to dry food.
Can foods can be stored on the pantry shelf or in your kitchen cabinet in an area reserved for your fury friends supplies. You can keep them in containers or baskets to maintain even better organization. Use more of the same to store the rest of the stuff you have for your pet such as nail clipper or brushes.
If you use grocery store bags to scoop your cat liter or clean up after your dog, use our post on storing plastic bags in your kitchen for tips on controlling a bag takeover situation.
Store your pet's toys in a few baskets and put them in the living room, bedroom or office and away from your kitchen. Choose the basket that best matches and compliments the design of the room you are storing them in. We love organizing solutions that are stylish, earth friendly and multi-purpose all at the same time.
We hope you earn extra "love points" from your pet for giving them an organized, personalized space just for them. We all can use some extra love!