For most of us, life moves at the speed of light. As we juggle life, work, kids and extracurricular activities, sitting down at the kitchen table to consume three solid meals a day becomes more difficult.
Add to that the current pandemic and the inability to dine in at fast food establishments or restaurants and eating on the go becomes our norm.
So how can we best manage to eat as we dash out the door? Here are a few smart tips for orderly eating on the go that might make your daily dining experiences a little more pleasant.
Grab-and-Go Breakfast
To make sure you get everything you need from the most important meal of the day, check out these helpful tips:
1. Choose a variety of fruits, bars and shakes that can transport easily. If you're running late in the morning, these handheld options make it easy to take breakfast on the go. Make sure to consistently keep them on hand in the house and on your grocery list too.
2. Set a timer on your coffee maker, so it's ready when you are. If a cup of joe is a must-have in the morning, set a timer to brew your coffee automatically (just make sure to add water and coffee grounds the night before). As you head out the door, pour your coffee into a handy thermos, and you'll be ready to tackle the day. If you're a tea drinker, consider getting a hot water dispenser so a mug of tea is always less than one minute away!
3. Make easy-to-heat breakfast meals ahead of time. Most recipes can be made beforehand, so you can quickly reheat them in the microwave or oven in the morning and enjoy them on your way to work or school. Consider making a quiche or overnight oats.
4. Prepare for the morning in the evening. Before heading off to bed, set out cereal boxes, bowls, spoons and cups so kids can fend for themselves as you finish getting ready. It also cuts down on the decisions that need to be made and won't have anyone asking, "What's for breakfast?".
Power-Packed Lunches
If you want to take a lunch with you but are short on time to pack it, here are some ideas to ensure you don't have to waste time and money eating out. Again.
1. Use the proper containers. Most people don't want to take lunch with them because it's usually a jumbled mess by noon. Solve this problem by purchasing containers in different sizes, shapes and materials so you can store your food correctly. One idea we love at M2O is using a Bento box to hold your midday meal. The compartments keep food from mixing, and it's simple to carry with you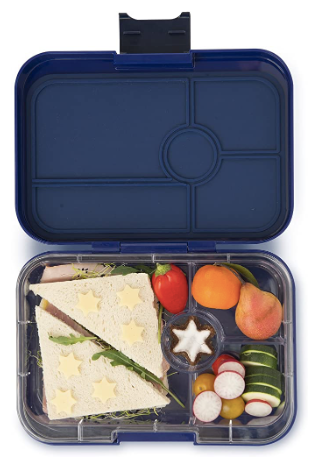 2. Prepare ahead of time. Not knowing what to take with you as you head out the door can limit your ability to pack a healthy lunch. Set aside some time on the weekend or in the evenings to plan out your lunches to cut back on early morning decision making. Make an extra serving of dinner the night before so you have leftovers you can pack after the meal and quickly grab the next day.
3. Consider simple yet healthy meal options. While it would be nice to have a gourmet meal every time you sat down to lunch, that isn't always possible. A tasty salad, hearty sandwich or spicy wrap are not only healthy choices but easy to pack and take with you when you leave the house. Check out M2O's very own, Maria Mendoza's recipe for Easy Mason Jar Salad: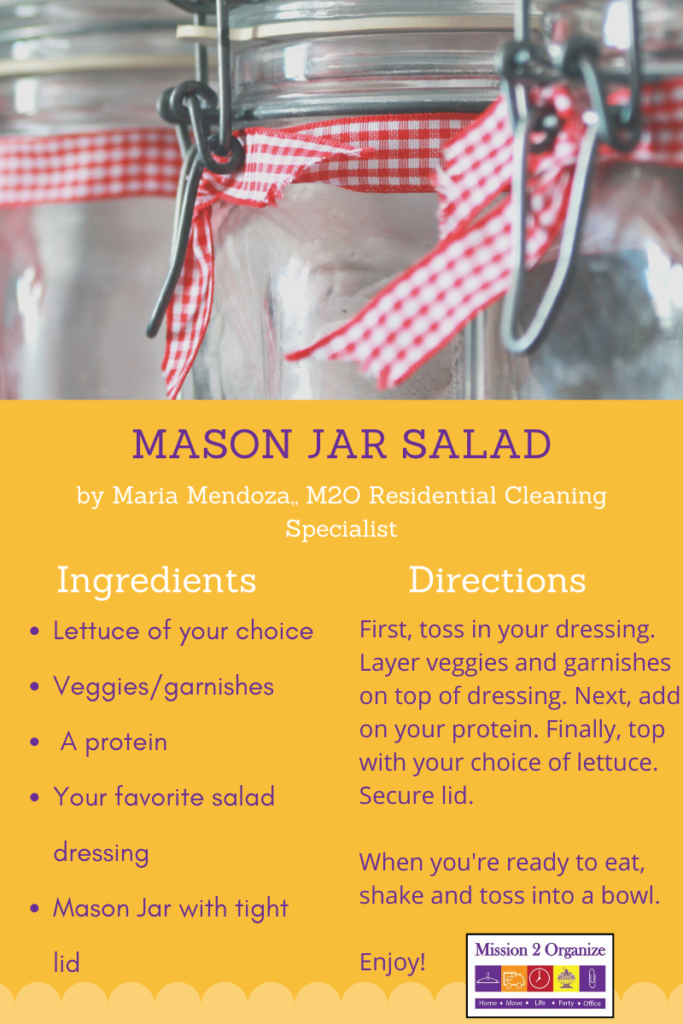 4. Don't forget the essentials! Keep your pantry stocked with the necessary items such as utensils (disposable or reusable), napkins, paper sacks or lunch totes. And remember to place the ice packs back in the freezer so you can keep tomorrow's lunch nice and fresh.
Drive-Thru Dinners

When there's no time to fix a three-course meal, it usually means take-out is on the menu. As you're driving to or through your favorite restaurant, you'll want to keep these things in mind:
1. Stock the car. Make sure to have a few napkins or hand wipes stowed away in the center console or the glove compartment for unfortunate or unexpected accidents. Hand sanitizer can also help if contactless delivery isn't available.
2. Have a mask. Depending on where you live, a mask may be required to enter an establishment so keep yours close by when you're out and about. Even if masks aren't mandatory, it's a good idea to use one when engaging with the waitstaff – for your safety and theirs.
3. Get the app. Many restaurants have an app that shows their menu options to make ordering and picking up food a breeze. Just download and go! Plus, when you use the app, you usually earn reward points that can get you free food and drinks on future visits.
4. Keep it family-focused. If your car is playing double-duty as your kitchen table while you shuffle family members to and from, or if you're just parked in the parking lot munching away, use this time as you would if you were sitting at home. Keep a list of discussion questions or simple games handy to make the meal feel more homey and fun.
If life is crazier than you'd like it to be and eating at your kitchen table for each meal doesn't fit into your hectic schedule, use these smart tips and tricks to help you master your on-the-go dining experience. From breakfast to lunch to dinner, M2O has all the resources you need to head out the door healthy and organized.
Have you and your family discovered any brilliant on-the-go eating tips of your own? Comment below and share your wisdom with our readers. We'd love to know what works for you!