Written by Schae Lewis
Conferences are familiar to me. With many hospitality and business expos behind me, I knew this one was special. It was my first National Association of Professional Organizers (NAPO) Annual Conference and it was in sunny Scottsdale, AZ.
The Venue
A motivated gaggle of perfectionist entrepreneurs gathered at the Westin Keirland Resort & Spa for NAPO2014. Temperatures outside topped 105 degrees on most days, but with shaded courtyard seating and front row seats at the pool, we all managed to enjoy the beautiful surroundings.
The staff of the resort was quick to please and seamlessly attended to everyone's needs. There were a few standouts who I would like to mention. Keeley from In-House Reservations went out of her way for me and I could not thank her enough for it. And then there was Daniel from Banquets. He blew all of us away with his hospitality and attentive service. NAPO couldn't have picked a more perfect location for this event.
The Education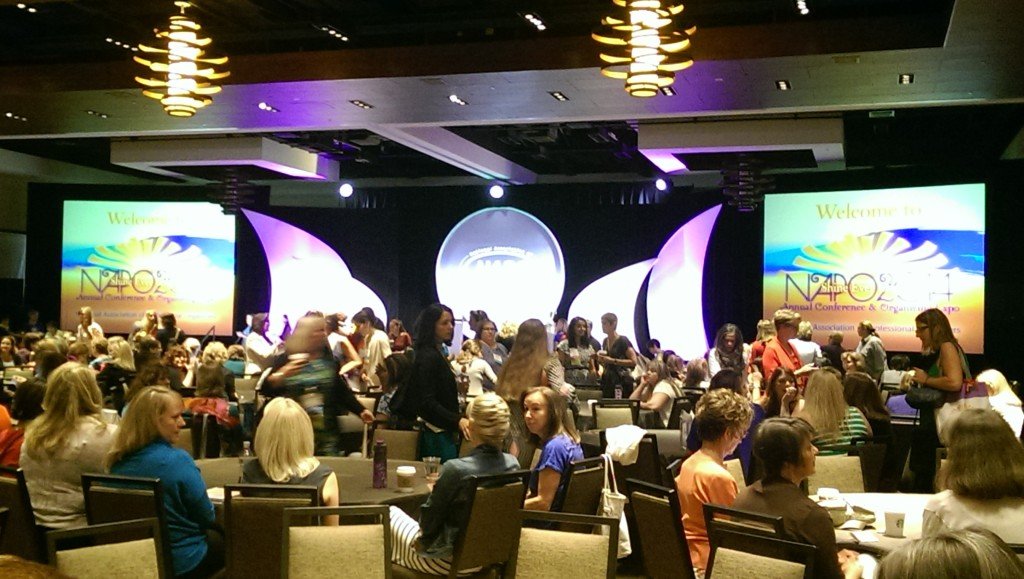 The flight from Chicago's O'Hare Airport to Phoenix Sky Harbor Airport is long and the conference ticket itself is pricey so I wanted to take full advantage of the educational opportunities while I was at NAPO2014. There were so many awesome sessions available that it was hard to choose!
One of my favorites was "Taking Your Business From "I" to "We" with Employees. This was a panel discussion featuring four professional organizers who have staff and know what it takes. Mission 2 Organize currently hires trained contractors to work on our teams. Now we have four full pages of notes about hiring employees. One thing this conference made me realize is that our future as a company is bright and full of wonderful possibilities.
Another 4-pager was College Hunks Hauling Junk's Co-founder Nick Friedman's How to Work "On," Not "In," Your Business. One of his main tips was to create systems. That is something that M2O has been working on, but now we are more determined that ever to put those systems in place. Vision and values were a central point of his presentation. Quoting Tony Hsieh, Zappos CEO, "Chase the vision, not the money; the money will end up following you."
The Connections
All professional organizers may not be famous or god-like, but we are all stars in our own eyes. After taking only 3 steps into the expo hall, I was approached by a NAPO member from the east coast. She said, "Oh my goodness, you are Schae from Mission 2 Organize! I watch all of your videos and read your newsletter every month. You guys do such a great job!" Can you imagine my surprise? What a special moment.
It's funny how you meet some people. Stepping off the elevator for the first time, I was met with one those signs: 2201-2211 this way and 2212-2222 that way. No problem! Until I took 3 steps and encountered a 3-way intersection and another one of those signs. Uh! I had been traveling all day and was lugging my bags around at the time. Thankfully there was a couple standing there who offered to walk me to my room (their room was near mine). The gentleman even pulled my suitcase! It turns out that gentleman was Mark from LifeinCase.
The Leadership Forum kicked off the whole conference for me. There, we were sat at tables according to our Board position. Because of this, I was able to meet other Marketing Directors from around the country. We hold bi-monthly conference calls so it was special to see everyone in person. I was also blessed to be introduced to my roommate, Sara, from Nashville via the internet and then in person at the conference itself. These are all connections that I will cherish for years to come.
The Bonds
We are fortunate to be located in an area that has a chapter of NAPO, NAPO-Chicago. For the past 2 years, I have served as the Director of Marketing & Public Relations for the local association. During that time, I have gotten more acquainted with many of the organizer members and Corporate Associate members. The national conference was a place to really bond with the people who I already know.
Anita (pictured above) just so happened to book the same exact flights that I did, to and from Scottsdale. It just so happens we live in close proximity in Chicago. Because of all this, we shared taxis and flights, plus pool time and maybe a few cocktails on the patio too. In Anita, I have found a very good friend and for that I feel very grateful.
At night, some of the NAPO-Chicago members would gather outside on the patio. We chatted about our cat issues, our favorite classes that day and commuting in Chicago. Through these nightly conversations, we got to know each other on a deeper level. I can't wait to continue to strengthen these bonds throughout the year and next year at NAPO2015!