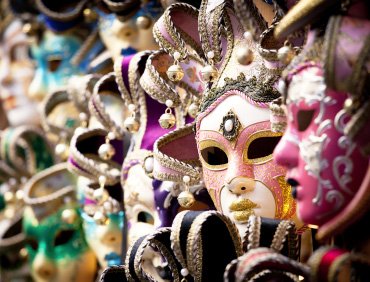 In the last post, we talked about how to care for your masks. Now it's time to organize them. There are two ways to go about. You can store them away or display them around your space.
To Store:
First and foremost, remember the mask will maintain the shape in which it's stored. Make sure the mask is not smooshed, cracked, creased or bent out of shape. To do this, stuff the mask with material such as plastic bags, non printed-paper, t-shirts, wigs, fabrics or paper towels. Do not use newspaper since they can transfer ink to your mask and has trace amounts of acid in it, which can harm the mask. You can also use a Styrofoam head to keep the mask in shape.
Always keep the original bag or box the mask came in. Use them to store the mask away after use.
Store masks in a storage bin or keep them individually in

smaller boxes

based on size of mask and amount of masks that you have.
Store them in dry, clean, cool and dark space.
Do not place any heavy object on the top of your mask.
Store masks individually. Masks that are stored together can be damaged by rubbing or sticking to each other. If you store them together, wrap them each separately with plastic bags or cloth.
If your mask has feathers or other fragile adornments on it, be sure to use a large enough box with lots of crumpled tissue paper to help it maintain its shape and integrity.
After labeling the boxes or tubs, you can

store them away with the rest of your holiday decorations

in the basement, garage or attic as long as there is no danger of flooding, extreme heat, moisture or mold.
To Display:
You can use a wig stand,

frame stand

or

mannequin heads

to display your mask.
If your mask has a hole punch with ribbons on the side, hammer two nails into the wall for each side to hang the mask.
You can also tie the ribbon in the back and hang the mask from a nail or hook. Don't forget to pay attention to keeping the shape of the mask.
Leather masks can be hung with the help of two long pegs through the eyeholes. You can also use a long peg under the nose for half masks to hold it in place.
Do not display the mask under the direct sunlight.
Masks are great addition to your Halloween decorations but also can be a great element for your daily home decor. Remember masks are all about telling a story, so get creative and tell your story with them.
As long as you keep the masks away from the harmful elements mentioned on the last post and stay true to its shape, you can use random stuff from around your house to display the masks and bring more character to your place. To display masks around the house, use candle holders, jewelry stands, empty frames, light stands and so on. They could be just the muse your mask has been waiting for. After all, we all have the urge to sneak into the enchanted forest and get lost in the dreamland every once in a while. Masks are for sure the gatekeepers to your own magical kingdom.
Tips:
Some masks that have lost their glamour days can be repaired or transferred into a piece of decoration. Think of using a little glitter, feathers, buttons, and so on to cover damage or to spice up the mask. Let it spark the creativity within you. Go wild with it!
It's recommended to wear your mask every once in a while even just walking around the house. It 's not only good for your soul, but it also helps to keep the shape of the mask.
Keep in mind that Vinyl masks will damage the Styrofoam head over time.