During our Summer Blog Contest, we noticed that quite a few of you have one common problem in your bedrooms. SHOES!!
We agree that having shoes in your bedroom IS an issue. Ideally shoes are best kept near the door that you enter most frequently. Lots of people take off their shoes when they come inside, so why not store them right there where you are taking them off and on?  If you choose this option, your coat closet is going to serve as "Shoe Central".
Not everyone has the luxury of a coat/hall closet to store their shoes. We get that! So the next most logical space to keep them is in the bedroom. Most of us would want to keep our shoes concealed. To do this, store them in your closet.
Whether you decide to stash your shoes in your hall closet or in your bedroom, the techniques remain the same. Think about the spaces that are not currently being used. Maybe it's the back of the door or some piece of empty floor space. There are so many storage solutions to help you make the most of your door space. Below is an example of a shoe rack that we set up for a client. It is also the one Schae uses in her home. Look at how many shoes it holds!! Ideally this will hang on the inside of a closet door so it's nicely tucked away discretely. You can also hang a shoe bag in a small amount of empty space on a closet rod.
Think about any space in your bedroom that is usually empty. Look at the floor of your closet. Typically there is some vertical space which is being wasted there. Add a shoe cubby or install shallow shelving. Be sure to measure your space before you decide on a solution. Below is an example of how we got creative in our clients' space. It turns out that this shoe shelf perfectly fit underneath this bench. Move things around a little until you find a resolution that works for you.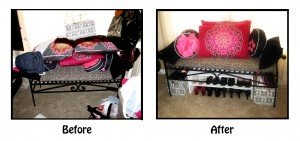 If you have an elfa shelving system from The Container Store, you can add gliding shoe shelves (shown below left) or closely spaced solid shelves to store your shoes. This system is an easy way to maximize your closet space and to do it at a fraction of what it costs to install custom closets (shown below right). We have shown you an example of how shoes fit using both of these ideal systems.
Whatever solution you choose for storing your shoes, start by looking for any open space, wall, or floor area. Get creative!  Use something in your home that is not meant for shoes and make it work. Once you start trying, you'd be surprised what you can accomplish with a little imagination. Feeling really inspired? Try this DIY shoe cubby from Chez Larsson. Good luck giving "the boot" to shoe clutter!