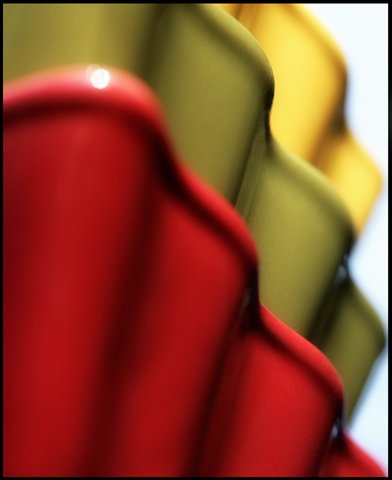 What's an organized kitchen without organized cabinets and drawers? If you are one of those people that dreads opening their cabinets because you are afraid of the mess of dishes falling on your head, this post is for you. It doesn't matter if you have a ton of cabinets in your kitchen or very few cabinets; it's essential to have organized cabinets for an efficient kitchen. Once your cabinets are organized by use and type of dishware, the chores of cooking and cleaning the kitchen can be a breeze.
First things first. Empty all of your cabinets. Donate whatever you are not using anymore. Sort the dishes into piles. Group like-minded objects together (i.e. cups with cups, plates with plates. Also determine how often you use these items. This will help you assign the right place in the right cabinet for your dishes.
With all of your cabinets being empty now, wipe them clean and line them with shelf liner. Then you can start restocking your cabinets.
Every kitchen and its setup is unique, but here is a general blueprint on where to store dishes in the kitchen:
Store plates near the stove
Store glasses near the fridge
Store rarely used dishes on the top shelf
Store daily use glasses and bowls on an eye-level shelf
Store daily use plates on a lower shelf
Store pots and pans and heavy bulky items in the bottom cabinet
Use a

drawer organizer

to store utensils inside of drawers
Although it all sounds great on paper, not all of our kitchens are going to work with this plan. With these few notes in mind, create a system that works best for you and helps you get closer to an easy to use kitchen.
Most of us have at least one cabinet that is too tall or too deep or has out-of-reach corners. For tall shelves you can use an undershelf basket or a cabinet shelf. Cabinets in a sense are the same as shelves. You can read our tips on accessorizing your shelves and use many of those tips for your cabinets as well. For out of reach cabinets, you can use a lazy Suzan for easy access or a pull out cabinet organizer. If you still end up with corners that are really hard to reach, use that space to store items that you use only on rare occassion.
Come back and read more in next few days as we will be giving you all of the details on how to best store your dishes to maximize your space. Helping you to get one step closer to the organized kitchen that you have been dreaming about for so long!